Fly Fishing South Padre Island for Redfish and Sea Trout
The knee jerk reaction would be to start laughing at the thought of traveling to South Padre Island, Texas to fly fish; famous mostly for the hordes of college students during spring break, and a bazillion T-shirt shops. What you might not realize is that this area has the very best wadeable flats for redfish and sea trout in the United States. We were looking for a good location and facility to offer shorter, more affordable trips, and this location has it. Raquel and I love to walk those flats, and Raquel has a peculiar affinity for redfish. She is practicing "fish whispering" to improve her catch rates. I take clients out in my Chittum skiff, and am able to get to the most remote areas of the lagoon system. Casting to tailing reds is nothing but fun, and you can be doing this the same day you fly into Harlingen, Brownsville, or McAllen, Texas.
The Laguna Madre is an extensive Texas bay system protected from the gulf by a barrier island. Most of the Island itself is designated as a National Seashore. The "Laguna" is filled with flats that redfish, spotted sea trout, flounder, tarpon, and snook call home. By far the most beautiful of these are located just north of South Padre Island, Texas. One of these is even named "little Bahamas", because of the crystal clear water and mangrove lined lagoons. These "east side" hard bottom flats cover literally thousands of acres. The softer "west side" flats are enhanced by a series of spoil islands that create excellent redfish and trout habitat. Boat runs to the most productive flats are generally 20 to 30 minutes. There are a few locations that take 45 minutes or more to reach.
For the 2021 fall fishing season Pescador Solitario has leased a house right on the bay. This well appointed two story, three bedroom, two bath affair is an excellent facility. It is the best location on the bay and comes with boat slips, should fly fishers want to self guide and use their own boat. We will accommodate 2 to 4 people in our leased "lodge". As a bonus you can use the swimming pool on the adjoining property and fish under the dock lights at night. All of our trips are hosted and breakfast and lunch are provided. Dinners (not included in the package) are the client's choice from the extensive restaurant selection and Padre Island is famous for excellent seafood. Sunsets looking across the Laguna Madre from the upper level balcony are spectacular. The gulf-side beach is within easy walking distance. This is an excellent venue for couples. For guided fishing packages you will be greeted by your guide and his flats skiff 50 feet from your back door.
Other Activities:
One of the attractions of South Padre is the fact that it is a great place to bring a non-fishing spouse. The beach is nationally famous and in this location it extends for over 30 miles. Horseback riding tours, ATV tours, windsurfing, kite-boarding, and wildlife-bird watching excursions are all available. Specialty shopping opportunities are present everywhere …watch the limit on your credit card!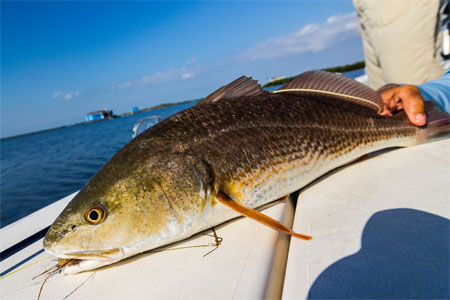 Redfish
Redfish is king in this region. Expect to catch fish mostly in the 5 to 10 pound range. You will likely see a few bigger fish, and with luck hook a 15 pounder. These are not the low IQ fish seen in other areas. The water is clear and these fish require stealth and accurate casting.
If you are a good caster expect to hook 3 to 10 redfish per day. You may find the mother lode in the form of a "herd" of 200 or more fish, all happily tailing, and push those catch numbers to 20.
We love to wade those hard bottom flats for reds, but you will also do plenty of fishing from flats skiffs. The guides pride themselves in their skiff handling fish spotting abilities.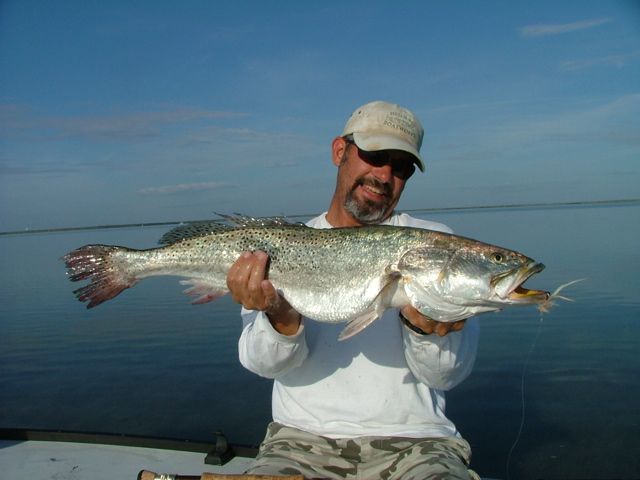 Spotted Seatrout
Also known as "specks", these fish are prevalent and the smaller fish are cooperative. Here the real trophy is a trout 30 inches or larger, with the big "sows" as hard to hook as a permit. They like bigger flies than the redfish or smaller trout, so it is a good idea to have two rods rigged, one with a big mouthful of bulky streamer.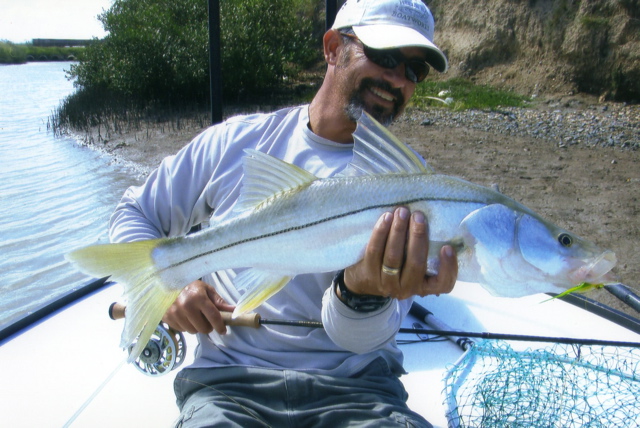 Snook
The guides are nuts about snook and over the past ten years this fish has been increasing steadily in numbers. From blind casting in the ship channel to sight fishing on the flats, these fish are revered. Five to ten pound fish are the norm, but bigger fish are not uncommon. A great combination is to fish snook early and then head for the flats for reds and trout as the sun gets higher.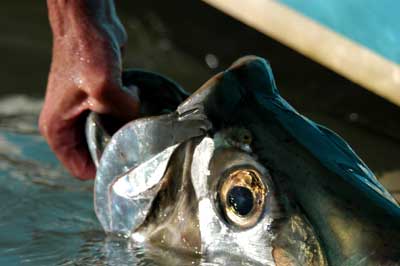 Tarpon
Like the snook, tarpon have increased in numbers due in part to better fishery management. These guys are found in the deeper water, and a great experience is cruising the gulf-side beach in a 4-wheel drive, running and gunning as the tarpon attack bait near the shore. With good weather we target tarpon out of our skiffs. This is mostly a September/October experience, coinciding with the seas are super calm. Tarpon fishing can be hit and miss, but jumping a few good fish is likely. Most are smaller babies (less than 70 pounds) but the big boys are around. A 200 pounder was landed off the jetties.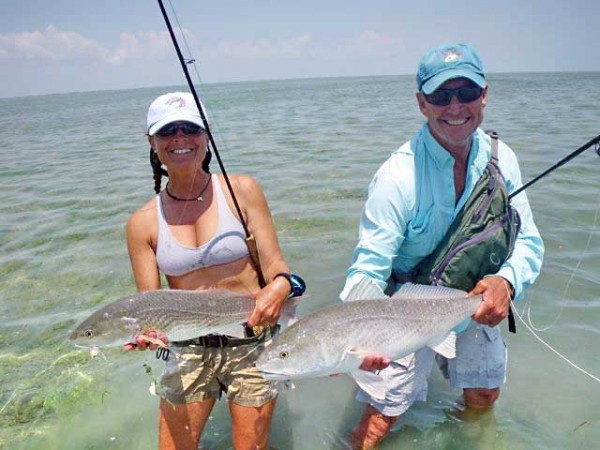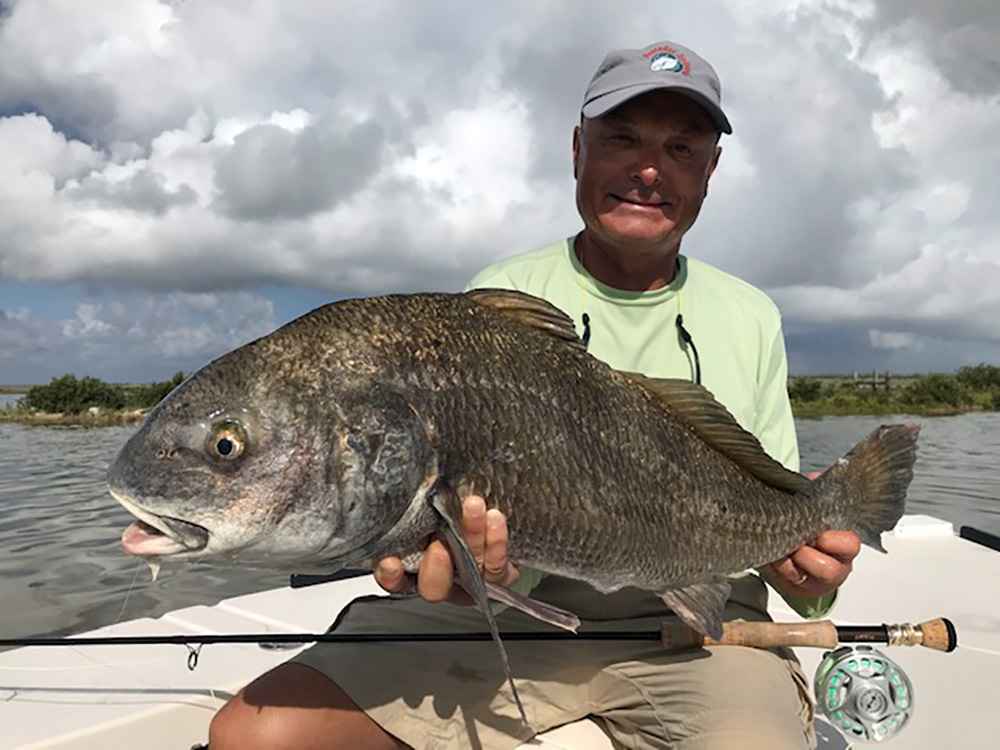 Other Species
Ladyfish are around in good numbers and are great fun on light rods. Ladyfish, tarpon, and bonefish are all similar life forms and the ladyfish can't seem to decide whether to act like a tarpon or a bonefish. You might hook a nice 3 pound fish that jumps and cartwheels like a tarpon, or the fish might just as easily use ½ of your backing in a long screaming run.
Sheepshead are plentiful but extremely difficult to take. These guys are perhaps the smartest fish on the flats and they have excellent vision. Use permit techniques, but with a size 8 fly, to take these 2 to 10 pound fish.
Like the tarpon, Jack Crevalle cruise the beach and are also available in early morning deep Laguna water. Watch for swirls and bait crashing. If you have never hooked a big jack you are in for a treat. Count on about 45 minutes of fight for a 20 pound fish. A 12 weight is not too big for the biggest jacks.
Add to the list mangrove snapper, flounder, and pompano to round out the interest. And while you are at it…don't forget king mackerel and Spanish mackerel that cruise the beaches in the early fall.
And then there is the "big ugly"…the black drum(shown). In the fall months these guys come onto the flats in large numbers and tail just like redfish, but they can approach or exceed 20 pounds….and they like size 6 squimps…you get the picture.
Fly Fishing South Padre Island – The Fishing Day
The flats skiffs generally leave no later than 6:30 AM. There are never more than two fisherpersons per boat and the guide can accommodate the departure wishes of the clients. Plan on returning to the house by 3:30 PM or so.
There are extensive flats within 20 to 45 minutes from the dock. You can add to this the gulf-side fishing (weather permitting) and the Brownsville ship channel. Because there are only two to four fishermen at the lodge per week, if you desire you can fish the same productive flats more than once during your days of fishing. Our guess is you will want to keep exploring new locations, with each having its own special character and beauty.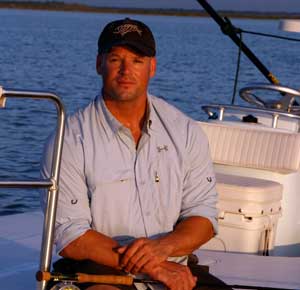 Captain Rick Hartman
…has been fly fishing for redfish for over 27 years and guiding full time for the last 16 years. He is a tournament caster and puts his skills to good use specializing in sight fishing for redfish, speckled trout and snook in the flats of southeast Texas. Rick takes pride in knowing the waters in South Texas like the back of his hand, a knowledge developed by putting in 175 to 210 days a year guiding anglers to redfish. Rick has been a part of several television shows and has won a number of competitions for casting and fly fishing including International Best of the West, Field and Stream Total Outdoorsman Challenge, ESPN Great Outdoor Games Show, and the Fly-Fishing Masters.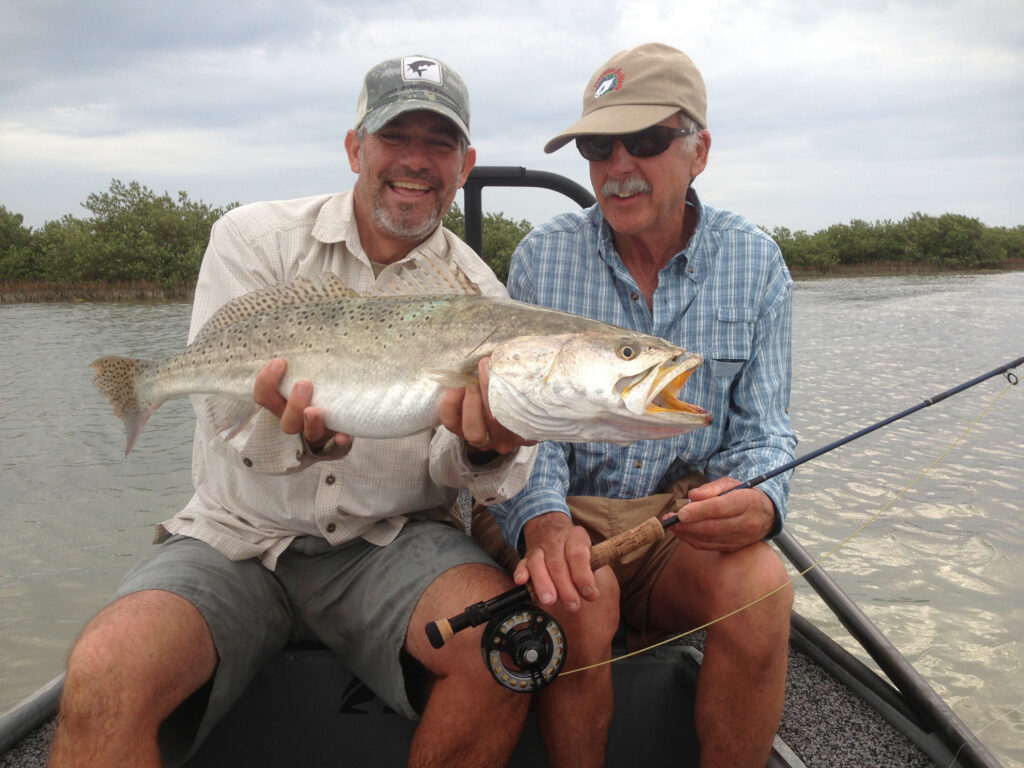 Captain Dale Fridy 
…was the 2002 Orvis Saltwater Guide of the Year. He calls the 240 square mile lower Laguna Madre home and has been guiding its waters for the last 25 years. He specializes in super shallow flats fishing and really gets charged when he sees a "gator" trout. Redfish habits are second nature to Dale. He has a degree in Wildlife Resources and his knowledge of the local wildlife will be much appreciated on the water.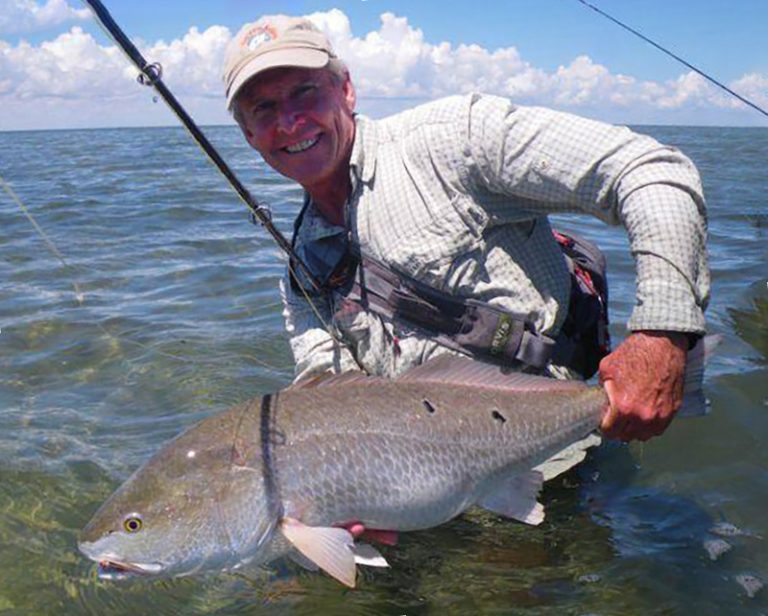 Captain Mark Cowan
Most of you already know me, having been on a number of trips where I was outfitting, guiding or hosting. For those who don't, I have been fishing the Lower Laguna Madre for 22 years and guiding Laguna trips for the last eight years. I have been a national and international fishing guide for 35 years. You can read about my antics in a number of fly fishing publications and see my mug on the cover of some. I have developed a complete quiver of custom flies for all of our locations, including the Laguna Madre. Whether fishing the west side spoil banks and grass flats from my Chittum skiff, or wade fishing the crystal clear sand flats on the east side, you can expect an exemplary effort to connect you with fish. Ask me about the tarpon and snook alternatives, and the many other fly catchable species in the bay and gulf. I love those "outside the box" venues.
Fly Fishing in Texas – Travel to South Padre Island
The most common route is to fly to Harlingen or Brownsville Texas and drive (45 minutes) to the lodge via rent car. You may want a rent car to drive to restaurants in the evening, or for a non-fishing spouse or family to shop or spend a little time at the beach. For those of you who don't rent a car, from Harlingen Padre Island Shuttle provides a $25 shuttle service timed with arriving flights…easy and fast. Brownsville also provides a similar but somewhat less convenient shuttle service. We also provide a pick-up service when necessary.
We can accommodate most trip lengths. One of the reasons we chose South Padre as a destination is that it is an affordable get-away for just a few days of fishing. Trips can be arranged for as few as 2 days of fishing.
Fly Fishing in Texas – South Padre Pricing
Here are the basic rates that include all taxes. Please call for special requests or questions. The fishing package includes guides (two rods per boat), lodging, breakfast, and lunch. Bring your own alcohol, and you are on your own for dinner. Also, transportation from Harlingen or McAllen is not included (see "Travel"), and generally runs between $25 (shuttle) and $75 (taxi) per client. Renting a car is, of course, variable. 
| | | |
| --- | --- | --- |
| Per Day Rates with Breakfast, Lunch on the Water, Apres Fishing Appetizers, Lodging and Guided Fishing | # of People | Per Person |
|   | 1 | $872 |
|   | 2 | $547 |
|   | 4 | $436 |
| Per Day Rates with Breakfast, Lunch, Lodging – Non-Fishing Guest | # of People | Per Person |
|   | 1 or 2 | $222 |
For trips shorter than 6 days of fishing, the night of arrival is an additional $122 for 1 or 2 guest, and $244 for 3 to 4 guests. For three fishermen at the lodge, call for the single rate allocation.